On April 9th members and friends of Hollow Hills Grove got together to learn to make basic candles. The class was taught by Kevin. Not only is he our webmaster, he also makes great candles! We can use these candles for persnal use and also for upcoming rituals.
Kevin took us through the many steps involved in basic candle making.
He started off by explaining all of the different types of wax, moulds (plastic, silicone, and metal), colours, scents, wicks and wick bases. He even gave us money making tips for making our own moulds and holders.
We melted wax in a double boiler over an electric single burner hob.
Then we started the slow process of filling the moulds with the coloured and scented liquid wax.
Kevin taught us several ways of adding wicks and wick bases.
In all, we were each able to make several small candles in various sizes, colours and scents to take home. We even made some floating candles!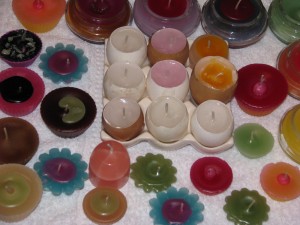 Soon, we will be having an "advanced class" to teach us other techniques!